How Engagement Affects Retention
According to Deloitte University Press, employee retention and engagement is the #2 concern among business leaders. Companies are forced to redirect their focus toward corporate culture in order to keep the best talent around. A positive, satisfying business culture sets one organization apart from the rest in an environment where competition for talent is exploding.
Employee engagement is critical, but developing such a culture is not an easy task. It requires owners, managers, and stakeholders to enhance employee engagement and happiness. This process begins with determining how engaged and happy employees are now.
‍Related: How to Get People to Take a Survey
Using Digital Tools for Employee Feedback
This is where employee feedback and cultural tools come into play. Imagine how nice it would be to poll your employees anytime, anywhere — no app downloads required. Imagine if no special hardware or paperwork were needed to survey members of your team.
Thanks to up-and-coming innovations, a number of new employee feedback apps are now accessible directly via browser. These interactive polling systems offer features that make the employee feedback process more convenient and effective for management and employees alike.
These tools are used to gather employee input and to track satisfaction or dissatisfaction over time. Only by gaining access to this key data can companies address leadership issues, make changes, and boost employee engagement.
Types of Software for Employee Feedback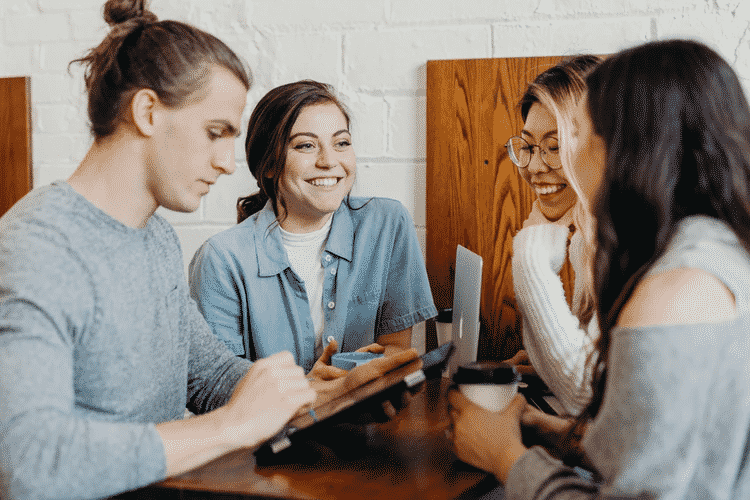 The primary options when it comes to implementing this type of software are
Dedicated hardware devices,
Wearables, or
Smartphones and other browser based devices
When you compare the pros and cons of each, smartphones come out ahead as the preferable option. Smartphones, unlike dedicated devices, are readily available. Wearables, such as the Pebble smartwatch or Apple watch aren't quite there yet, as they are still making their way into common use.
‍Related: How to Create an Anonymous Survey for Your Employees
How Employee Feedback Software Works
Employee feedback solutions capture and measure employee sentiment, enabling companies to adjust management practices and to improve work environments.
These tools gather employee input and feedback, merging them with data analytics in order to identify engagement problems that could ultimately turn into retention problems. Employee feedback software has historically been a focal point of HR departments, but more businesses are turning this technology into a core business objective.
So' how do these new interactive polling systems work? Simply visit your chosen employee feedback app's website, where you will be prompted to create a title for your meeting or event. Use the online interface to create a poll, survey, or other interactive feedback task for your employees.
When you are finished, you will receive a sharable link specific to your event. Your team members simply enter the link in their web browser to participate. To ensure privacy, some browser-based employee feedback apps offer password protection, ensuring that only designated users have access. Alternatively, surveys can remain open to the public. It's up to you.
Benefits of Employee Feedback Software
Real-time capabilities
‍Rather than requiring lengthy preparation, these new browser-based apps put survey creation right at your fingertips via any internet-enabled device. Because no special hardware or downloads are required, anyone with a mobile device can participate. Not only do they allow you to survey your employees more easily, they allow an entire group to provide feedback together and see shared results online in real time — without downloading a single thing.
‍Customizable Features
‍There are various ways to use browser-based employee feedback apps to gather information from employees. Not only can you create a poll or survey; a wide variety of additional features allow employees to submit questions, vote on questions, and provide freeform responses to queries. In a browser-based system, all data relevant to a session is consolidated, making analysis and review a piece of cake.
Graphs and visuals are readily available, making it easy to gauge the collective opinion of the room. Poll results can be set to public or private, making it easy to share real-time visuals with your team or colleagues. The power to customize allows you to tailor data-gathering methods to be as simple or complex — public or private — as you like.
How to Gather Data: Wearables vs. Smartphones
A key component of employee feedback software is the actual means of gathering data from your team. As stated previously, this is typically either accomplished either through wearables or smartphones.
‍Wearables Won't Cut It. There are a few reasons we're not quite ready for a wearable revolution in enterprise and employee sentiment measurement.
Wearables are tracking devices that many employees could potentially see as an oppressive, micromanaging tool. This could negatively impact team morale. Requesting your team to wear special devices could have the opposite of the desired effect if your goal is to enhance engagement and increase retention.
Consumer-grade devices don't always incorporate the encryption and security measures needed to safeguard personal data, which could lead to data leaks.
Robust wearables that offer proper security features are prohibitively expensive. Companies that are just starting to integrate employee feedback systems are unlikely to invest large amounts for these devices on the front end.
Most people are not used to wearables. Employees may find them to be awkward, invasive, or intimidating.
Wearables are complicated and expensive to configure — versus readily available online platforms that can be accessed from any mobile device.
Proponents of wearables may say that it's just a matter of time before they become the best option for tracking employee feedback. True as that may be, companies can't sit around and wait for that to happen. Now is the time to implement employee feedback software accessible via smartphones — the devices that are already so familiar to your team.
‍The Smartphone Advantage: Employee feedback solutions accessible by smartphone win over wearables because they follow a method more familiar to users. Smartphones don't have the "Big Brother" presence that wearables can bring up.
Smartphones can be used to collect survey information, list tasks that team members hope to accomplish, gather pulse data, deliver performance reviews, and provide other key engagement indicators.
Importantly, these days, almost everyone has a smartphone. Why not take advantage of the BYOD (Bring Your Own Device) revolution when it comes to workplace technology.
The Future of Employee Feedback Software
Real-time employee feedback apps make it easier than ever to survey your employees without special hardware or sluggish downloads. Browser-based employee feedback apps are always up-to-date, thanks to server-side software maintained by providers. Because system access is available to anyone with a smartphone or internet-enabled device, employees can easily participate on the fly.
It's no longer necessary to stop and fumble with a device or wait for a slow download. This dissolves a major barrier, thus allowing you to more quickly, more easily take the pulse of your team. Ultimately, this means more enjoyable meetings, more accurate results, and improved workplace culture.
MeetingPulse: Your Modern Employee Engagement Solution
MeetingPulse is an approachable employee feedback solution that provides engagement features for your whole team. In addition to allowing facilitators or administrators to pose questions or poll employees, it provides tools for measuring the employee engagement data gathered through its use.
Thus far, the implementation of MeetingPulse technology has increased employee engagement as much as 350% for client companies of all sizes. Contact us for more information or sign up to receive blog updates, along with our informative eBook.