An all-hands meeting is an ideal time for leaders to share news with the entire company. It's also a great opportunity for leaders to take the pulse of the group and for employees to learn more about the organization. We're here to help people from either side of the podium draft questions for all-hands meetings.
There is no rule for how often these types of team meetings should occur, but any organization that values its company culture and transparency should consider holding them at regular intervals that make sense to the organization. Depending on the company, that could be quarterly, semiannually, yearly, or another interval. Successful company meetings can engage remote employees and people attending in person. Ideally, they can inspire every team member to do their best work.
The meeting agenda could include things like the company's vision, new ideas, key metrics, a dream project, or new projects. Of course, it's the ideal occasion to share business updates. These types of town hall meetings can also serve to build better relationships between a business's management team and their employees by leaving time for attendees to ask questions.
It's up to management to find an inviting way to collect questions, while employees should come with questions to ask. In this article, we'll talk about what types of questions are good for all-hands meetings, and how you can make sure your next all-hands event is beneficial to everyone involved.

What's the point of an all-hands meeting?
Company members meet in various configurations, both large and small, throughout the year, but this is a chance to bring the whole team together at once. For that reason, it presents special opportunities.
Make connections
Traditionally, these gatherings allow people to meet colleagues from other departments and build connections that strengthen the company. In an increasingly hybrid work world, it's even more important to meet as one. It allows your remote teams to put faces to names and to be seen themselves. Ultimately, it gives everyone a better sense of belonging and community.
Strengthen company culture
This is one of the best ways to put your company culture on full display. It's not just a regular team meeting — it's a chance to do a deep dive into your organization's values. Use these points to demonstrate that each team member serves a higher purpose than the work they complete each day.
Provide updates and allow for follow-up
This is the time to talk about the key metrics that keep your team working together, like company goals, revenue trends and sales figures. It's a good time to get everyone on the same page.
Celebrate
While everyone is gathered together, use the opportunity to talk about your organization's biggest wins and give out high fives. Recognize individual accomplishments and highlight a great team's productivity. Don't be afraid to let loose and party a little — after the work is done, that is.
Give everyone a voice
These meetings are often seen as a time to communicate from the top down. But they also should allot time for employees at all levels to ask questions about anything they'd like to know.
How do we handle questions at an all-hands meeting?
The manner in which questions are asked and answered is nearly as important as the questions themselves. MeetingPulse provides event management software to help an all-hands event run smoothly across the board. And that includes several options for presenting questions and enabling all team members to offer answers. Our tools can help you gain insights into what your employees are curious about and what they are thinking and feeling. They include:
What are good questions for all-hands meetings?
If there is anything you want to know, whether you are a line worker or a project manager, prepare questions ahead of time to make the most of the opportunity. Let's look at examples of some good questions.
Questions about past performance
Use the opportunity to dig into what has and hasn't worked in the recent past. It'll give attendees an insight into what could work best in the future. Questions could include:
What recent projects are you most satisfied with and why? Learning which projects management considered to be the biggest successes can help your team when it comes time to plan the next.
Were there any that fell short of expectations? Similarly, identifying projects that could've been a little better will show team members where they can improve.
How did we perform last quarter? Getting an overview of your team's recent efforts is an important first step in regrouping and moving forward.
What do you think we did best as a team? There will certainly be areas you were more successful in. This is a good opportunity to identify those strengths.
Questions about upcoming projects
Looking toward the next opportunities you will have to shine, all-hands meetings are a good time to ask about strategy.
What's the company vision for this project? A clear explanation of what the end result should look like will help you conceptualize its beginning.
What do you consider the top priorities? This will let you know what to focus on first and what you should center your work on.
Questions to get everyone on the same page
It's a good time to find out what the company envisions for the next phase forward.
What goals do you have in mind for our team? Having your boss paint a picture of what success looks like will help you and your team make better plans to achieve those goals.
What goal is the company trying to achieve? Painting a broad picture of the company's biggest performance targets is even more helpful.
Questions to motivate
If you're looking for opportunities to inspire others or bring in some new ideas, this is a good time to start brainstorming on how you and your team can do just that.
What's your dream project this year? Listen carefully to what makes the dream project different or more of a challenge and keep it in mind as you and your team work together. Find a way to make the dream project a reality.
What would you like to see our team accomplish? This should give your team a roadmap for how to move forward.
Questions about growth
Everyone wants to know how they can keep moving to a higher level in their work. This is the time to find out how.
What can I (or your team) do to challenge ourselves? Find out what projects or initiatives might be just outside of your reach and get creative on how to grab the opportunity and make it a success.
Can you suggest any learning opportunities for our team? There might be new ideas or strategies your team can tackle to produce stronger or more creative work.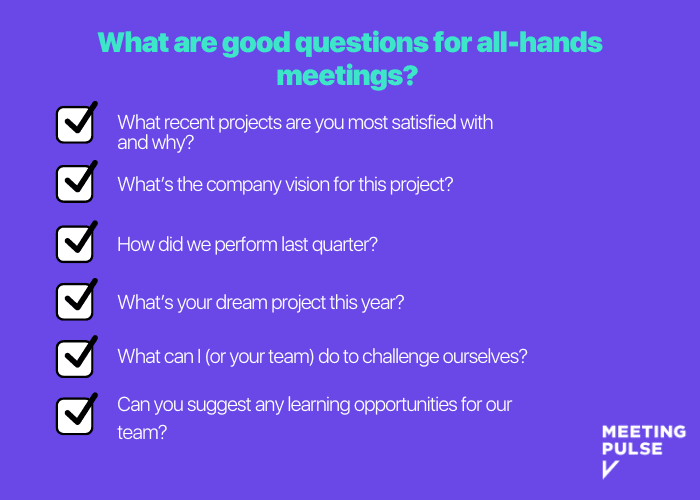 Getting answers
As we've detailed above, all-hands meetings are an organization's biggest opportunity to communicate, celebrate and connect with all of its team members. MeetingPulse can help you facilitate your next meeting and ensure that no questions go unanswered and every voice is heard.
‍